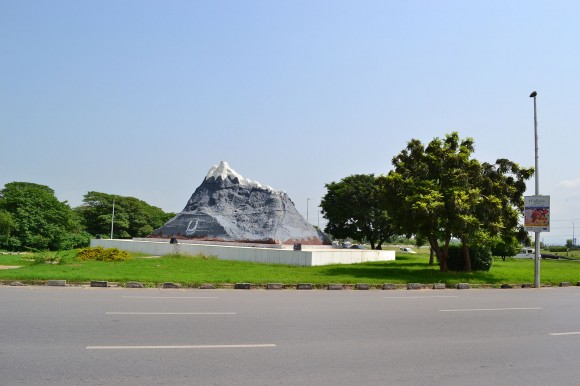 Above: Monument to the Chagai (or Chaghi) Hills nuclear test site, Faizabad Interchange, Islamabad, Pakistan.
What benefits are conferred by nuclear weapons? Do they provide status? Not like in the past. North Korea and Pakistan haven't gained status by having the Bomb. Instead, they have become more worrisome countries. Do they alleviate security concerns? Possessing nuclear weapons against a similarly-armed foe or against an adversary with stronger conventional capabilities provides a sense of deterrence, dissuasion, and national assurance. To give the Bomb its due, during the Cold War, nuclear weapons helped keep border skirmishes limited between major powers, fostered cautionary behavior in severe crises, and reinforced a natural disinclination to engage in large-scale conventional wars. These were – and remain — significant accomplishments.
But the Bomb always promises more than it delivers. Possessing the Bomb, even in significant numbers, has not deterred limited border clashes between nuclear-armed states, conventional wars with non-nuclear-weapon states, punishing proxy wars and severe crises. The Bomb isn't stabilizing; it exacerbates security dilemmas and can engender risk taking as well as caution. The Bomb promises advances in security that are quickly undercut by countermeasures taken by wary adversaries.