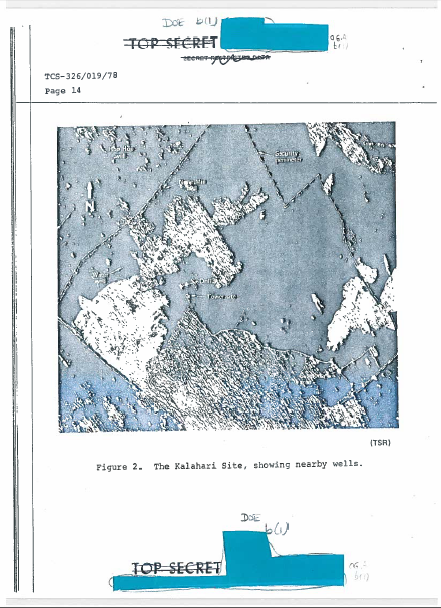 I made an appearance at the end of Glenn Kessler's fact check on Mark Kirk's bizarre claim that Nelson Mandela abandoned South Africa's nuclear weapons program — something we've been scratching our heads over for a while.  While I am officially against handing out Pinocchios, maybe this is the kick in the pants Kirk needs to lose the lame slide.
The South African case is really interesting — not just for the precedent, but also for the role of satellite imagery.
The discovery of South Africa's Kalahari nuclear test site is one of my favorite case studies. The story is that
Cosmos 922
, a Soviet photo-reconnaissance satellite, photographed the test site on 3-4 July 1977.  The Soviets didn't like what they saw, then took a second look with
Cosmos 932
 and concluded South Africa was preparing a nuclear weapons test.
That's one version. Dieter Gerhardt, a South African military officer later arrested for spying for the Soviets, told Ronen Bergman that he was the source of the intelligence.
Whatever put Moscow on to Pretoria's tail, the Soviet Embassy delivered, on August 6, 1977 , a letter from Soviet leader Leonid Brezhnev indicating that South Africa was preparing for a nuclear test, something that would "have the most serious and far-reaching aftermaths for international peace and security."  Carter wrote back, asking the Soviets for the geographic coordinates.
The United States looked at the site, concluded it was a nuclear test site, and confronted the South Africans with the coordinates and other details.  South Africa's bomb program was blown.  The scrutiny didn't stop the program, but the events of 1977 are a good illustration of detection, pressure and so on.  And, in principle, the events of 1977 are now replicable using open source tools.  That's a big reason that I have always wanted to geolocate the site myself.
I finally got around to it, only to discover that David Albright Paul Brannan,  Zachary Laporte, Katherine Tajer, and Christina Walrond had already done it in 2011.  As it turns out, though, we  used completely different methods.  I used a pair of declassified US documents; Albright et al had used information from the IAEA. We got the same answer, which is nice.  I also learned a few things, some of which may make for an interesting blog post.  You tell me.