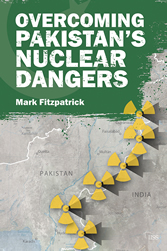 Mark Fitzpatrick is a highly respected, careful chronicler of nuclear proliferation. His monograph of A.Q. Khan's activities is required reading. So, too, is his latest, Overcoming Pakistan's Nuclear Dangers, in which he recommends that Pakistan be treated as a normal nuclear state if it facilitates the entry into force of the Comprehensive Test Ban Treaty, negotiation of the Fissile Material Cut-off Treaty, and helps reinforce other nuclear norms. Mark correctly identifies an intensified nuclear competition on the subcontinent as a grave danger. He reasons that by bringing India and Pakistan into the existing nuclear order, dangers might be averted. He's right. But will inducements succeed in persuading Pakistan (and India) to accept the limits inherent in signing up to the CTBT and FMCT?
Pakistan's official narrative is that of a reluctant, unwilling party to a nuclear competition with India. In reality, Pakistani leaders, civil as well as military, have viewed the Bomb as absolutely essential to maintain national sovereignty and territorial integrity. They rightly predicted that New Delhi would develop nuclear weapons and gain conventional military advantages, and countered by engaging in "anticipatory" proliferation.
As Mark writes, "Pakistan assumed the worst about India's intentions and spared no effort in preparing a nuclear counterpunch." Zulfikar Ali Bhutto's set the wheels in motion to acquire a nuclear deterrent two years before India's first test of a nuclear device. Pakistan produced a deliverable nuclear warhead and possessed confidence in its reliability before India's second round of tests. Today, Pakistan's nuclear arsenal compares favorably to that of a neighbor whose economy is eight times bigger.