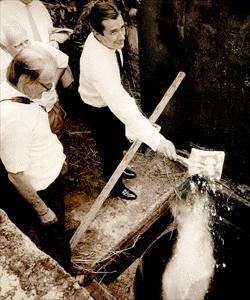 On September 18, 1990, long-held suspicions about Brazil's nuclear intentions seemed to be officially and dramatically confirmed. Brazil's first popularly elected President in 29 years, Fernando Collor, on the scene of what his aides suggested was a nuclear test site, terminated a covert nuclear weapons project which had been steered by the military. The New York Times reported it out from Brazil:
In a first step to dismantle the bomb project, Mr. Collor flew photographers and officials to a previously off-limits air base in the Cachimbo mountain range of remote central Amazon. As the heads of the three military services watched – looking ill at ease in the photographs – the President threw a symbolic shovelful of cement into a hole four feet in diameter and 1,050 feet deep.
I read this article the day after it appeared in print, and its conclusion–neatly summarized by the International Herald Tribune's front-page headline: "Brazil Uncovers Plan by Military to Build Atomic Bomb and Stops It"–has been with me and has probably subconsciously influenced my thinking about Brazil's nuclear program for nearly a quarter-century.