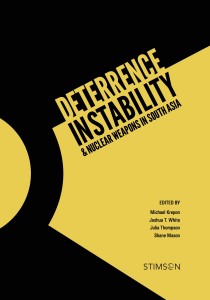 The United States wants to pivot to Asia, but the Middle East keeps getting in the way. Likewise, India wants to pivot to China, but Pakistan keeps getting in the way. Pakistan matters to India for two primary, interconnected reasons: its home-grown terrorists and its nuclear-weapon programs. The pathway to crisis and war on the Subcontinent begin with the actions of violent extremist groups based in Pakistan. As long as this pathway remains open, deterrence stability does not improve with nuclear modernization programs. Instead, stability is dependent on Indian restraint after severe provocation.
The nuclear competition between Pakistan and India now qualifies as a serious arms race. Since the 1998 tests, when both expressed fealty to credible, minimum deterrence, they have flight-tested fourteen types of nuclear-capable missiles. Both countries have embraced cruise missiles and sea-based capabilities. Pakistan advertises its short-range Nasr missile as being nuclear-capable. If Pakistan's military leaders have established a requirement for a nuclear-tipped Nasr, they could employ the same logic to produce other types of battlefield nuclear weapons as well.
Both countries have recently flight-tested longer- as well as shorter-range ballistic missiles. India can now reach targets throughout China. Pakistan can reach targets in all of India – and the Middle East. India and China have the means to place multiple warheads atop some of their missiles and to deploy limited ballistic missile defenses. The flight-testing and induction of MIRVs, even on a small scale, would have ripple effects in Pakistan, as would the deployment by India of limited ballistic missile defenses.